Blackmail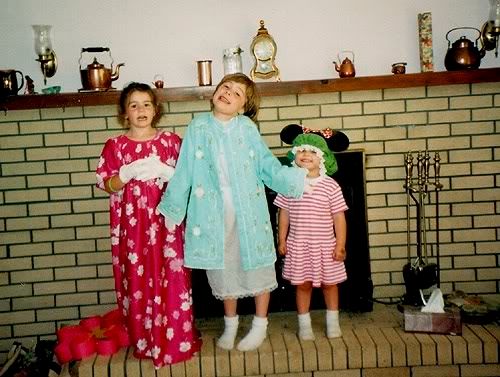 I found this picture this weekend. It is an image of my kids (middle and right) and my friend, Jenny's daughter Ali. The older girls are about 5 and the youngest is around 2. I showed this to my kids and they recoiled, horrified. I told them that I would show this picture to every boyfriend they ever have unless they get their stuff ready for school today. I think it worked! Especially with the Mickey Mouse ears and the shower cap. She is now 13 and looks 18. I can't imagine she was ever this little. She can't either.
Your Daily Dose of Cool Things:
Click Here to see more about Dirty Car Art!
Your Daily Dose of Wonderful Design:
Click Here for more about this unique furniture design!
Your Daily Dose of Inspiring Words:
Your Daily Dose of Wicked-Good Food:
Duo of Potatoes
Here is a simple, tasty side dish. Take one small potato of each variety (sweet and yukon gold used here) and bake in a pan with olive oil drizzled on top at 375 until fork tender. Slice and place as seen. Sprinkle with cheese (parm used here), freshly cracked pepper and garnish with field greens.