Julia:1 Wasps:0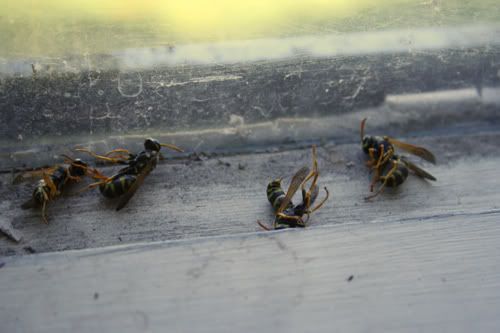 Larry, Moe, Curly and Schemp


I don't like killing living things, in general. But, when it comes to wasps or hornets, and insects that bite or sting, I have little problem with annihilation. It all started with a broken window pane in my front window. Before glazing the new pane I had to remove the old one, and I found 4 wasp nests built between the storm pane and the screen. I am loathe to use chemicals, but I went at those buggers like I was napalming a village. Then I had to clean the windowsills and glass to get rid of the death fumes from the pesticide. The nests were then scraped from the sills and window frame, and I glazed the new pane. Very Keen. Lots of work, but still, Very Keen.
Much of the rest of the weekend was spent walking and napping. My (Achoo!) allergies were acting up much of the weekend. Many (Achoo!!) homes in the area reek of mildew, and the sump pumps are dumping basement water into the streets, laden with mold and icky smells. Add onto that the fact that a guy came and cleared my gutters of all sorts of detritus, including moss and saplings. So, (Achoo!!!)I have been downing the Zyrtec daily. And taking naps. Naps fall into the category of Totally Keen.
Your Daily Dose of Cool Things:
Click Here for Mibo Tile Tattoos
Also Very Cool: My friend, Kevin, in Illinois, and his fine woodworking skills will be featured in an article in Better Homes and Gardens in October! Congratulations!!
Your Daily Dose of Wonderful Design:
Click Here for Potters for Peace Ceramic Water Filtrators
Your Daily Dose of Inspiring Words:


"And the day came when the risk it took to remain tight inside the bud was more painful than the risk it took to blossom." - Anais Nin


Your Daily Dose of Wicked-Good Food:


Apple Upside-Down Pancake
pre-heat oven to 375 degrees
3 granny smith apples (I got mine from a tree down the street)
1/3 cup sugar
2 tablespoons cinnamon
1 tablespoon butter/spread
2 eggs
1 cup flour
1 teaspoon baking powder
1 cup milk
pinch of salt
Peel and slice the apples and cook them in a cast iron skillet in the butter until barely soft. Add the cinnamon and sugar and continue to cook for a minute or two. Mix the ingredients for the batter and pour over the apples. Place skillet in the over and cook until the pancake puffs up, about 10 minutes. Flip the pancake over onto a plate. Very tasty with syrup or jam!